The Name You Trust
Aquachamp Upflow Conditioners, part of the Aquachamp product line, improve the quality of your water. Aquachamp is the trusted name in the industry. Built in the USA, Aquachamp Upflow Conditioners are fully automatic and operate with little or no activity on your part. Tens of thousands of homeowners count on the reliability of their Aquachamp through the years.
Your Aquachamp Dealer is the exclusive provider of this cutting edge water treatment product line. Indeed, the Aquachamp Dealer Network is an exclusive and select set of certified water treatment professionals.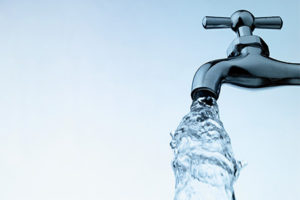 How It Works
Aquachamp Upflow Conditioners remove unwanted hardness–such as calcium or magnesium–from your water. The basic concept of a water softener is that it allows the "raw", or supply, water to pass through a bed of tiny, negatively charged resin beads. When the positively charged hardness ions encounter the charge from the resin, the hardness affixes to the resin beads, resulting in clean, "softened" water that continues to your faucet or tap. Once the capacity of the resin beads is "exhausted", meaning they can no longer remove hardness from the supply water, a salt water brine solution is introduced to the resin bed. The salt in that brine solution replaces, or "exchanges" places with, the hardness affixed to the beads, and the resin bed is once again ready to remove hardness. These are the basics of Water Softening 101. But Aquachamp Upflow Conditioners go above and beyond those rudimentary steps.
How is Aquachamp Different?
The Aquachamp line of products was designed, from its inception, to provide homeowners with the most efficient water conditioner the market. All Aquachamp Upflow Conditioners feature Counter-Current Technology, which means they use clean, soft water for regeneration, and Upflow Variable Brining–a combination that saves money spent on both salt and water, while producing the best water available. Every Aquachamp Upflow Conditioner is made in the USA and features: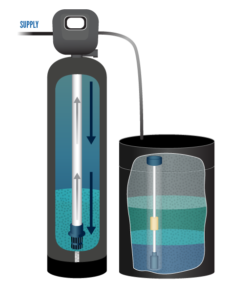 Counter-Current Technology to optimize system performance and keep components clean.
Upflow, Variable Brining: The system regenerates only when necessary.
Metered Regeneration: The resin bed only begins a regeneration once a predetermined amount of water has been used. This means salt is only used when necessary.
High Efficiency Resin: Perfectly sized resin beads mean less pressure drop, and greater capacity.
Proportional Brining: The brine usage is proportional to the amount of the bed that has been exhausted.
Touchscreen Controller
Aquachamp Upflow Conditioners also use a cutting edge, state-of-the art controller. This touchscreen LCD interface offers detailed descriptions, a vivid display and familiar icons for the most user-friendly experience available. The programmable controller is so smart it adjusts, on its own, the regeneration schedule according to your water usage. Additionally, the Aquachamp controller features:
Constant monitoring of water usage (including a leak detector) to determine any needed adjustments
Help/Assistance screen displays Aquachamp Dealer contact info
Battery backup to maintain time-of-day and gallons-used data
Vacation Mode to conserve water and salt usage when away
System notifications
Efficiency
Aquachamp Upflow Conditioners use less salt with a self-adjusting brine level, self-adjusting brine treatment and continuous brining. Additionally, they use less water by regenerating only exhausted resin and regenerating only when necessary. Aquachamp Upflow Conditioners are the most efficient systems available.
Smartest Control Valve on the Market
The brains behind each system is the control valve, with its innovative touch-screen LCD controller. The valve is a tried-and-true product that has become a workhorse. The Aquachamp valve features:
Stronger Flow Rates–low end models start at flow rates of 21 gpm continuous, 27 gpm peak, 17 gpm backwash; available in higher flow rates of 43 gpm, 33 gpm backwash – up to a 24" tank
Faster Setup Time–10,000 RPM fast-positioning motor with 12 volt DC drive
Clean, Soft Water Refill–for better brine saturation and a cleaner brine tank
Time of Day Backup–a built-in super-capacitor maintains system data up to 12 hours after a power outtage
Easy Servicing–cartridge-based seal and spacer kit for quick and easy replacement
Optical Technology–optical sensors control the backwash cycle for trustworthy, precise performance
Wi-Fi Enabled – Users can monitor water usage, receive system alerts, and connect with you through the Pentair Home app for faster service. The app even allows you to diagnose the system and access troubleshooting guides from afar.
Additional Options
Aquachamp is also available in a twin tank system, which allows conditioned water to be available at all times — 24/7; when one tank's capacity is exhausted, the next one comes online.
Ask about our Feed Pump Systems, which provide bacteria-free, odor-free water throughout your entire home. These systems are usually reserved for those with private wells. Contact us today to learn more.