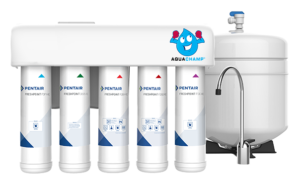 The Aquachamp Reverse Osmosis ("RO") drinking water system is the ultimate method for removing unwanted contaminants in drinking water, reducing more than 96% of total dissolved solids. The high efficiency membrane technology delivers up to 75 gallons per day. Paired with an Aquachamp Upflow Conditioner, the Aquachamp RO will provide your family with water quality better than bottled water!
The Aquachamp RO features five stages, complete with filters, an RO membrane and, finally, a designer stainless steel drinking water faucet. As water enters the Aquachamp RO, follow its path to your tap: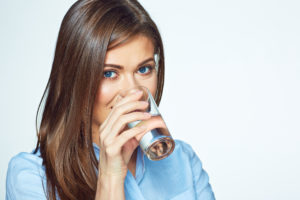 Stage 1: Carbon block filter removes chlorine, taste, and odor, as well as protects and increases the service life of the remaining filters.
Stage 2: The 75 gallon per day RO membrane removes impurities, contaminants, and more than 96% of total dissolved solids.
Stages 3 and 4: The twin carbon block filters are made of high quality activated carbon, reducing any remaining chlorine, tastes, and odors, and conditioning the water.
Stage 5: The granulated activated carbon "polisher" filter provides final polishing of water.
Higher capacity systems are also available.
Contaminant Reduction
The Aquachamp RO system reduces or eliminates the following contaminants:
Chlorine Taste and Odor, Nominal Particulate, Class I, Atrazine, Lead, Lindane, Chloroform, Arsenic (Pentavalent)< = 50 ppb, Barium, Cadmium, Chromium (Hexavalent), Chromium (Trivalent), Copper, Fluoride, Radium 226/228, Selenium, Turbidity, TDS, VOC'S, Cyst: NSF/ANSI Standards 53 and 58 certified to reduce cysts such as Cryptosporidium and Giardia by mechanical means.
Certifications
NSF/ANSI Standards 42/53/58 CSA Standard B483.1
Approximate Filter Life*
Pre/Post Filters: 1 year
RO Membrane: 18 months
* Filter life dependent on gallon usage and overall incoming water quality
Performance Data